Welcome to Henderson Partners LLP
Established in 1982, Henderson Partners LLP is a leading firm of chartered professional accountants and advisors that are dedicated to serving entrepreneurial people and organizations – privately held companies, family owned businesses, non-profit organizations and high net worth individuals.
Our clients are the heart of our business. Henderson Partners is built on the core purpose of "helping our clients pursue opportunities, navigate challenges, create value and leave a meaningful legacy".
We are a full service firm and our strategy is to provide our clients with seamless service across our practice areas creating efficiencies, peace of mind and a relationship of trust such that we are the first ones our clients call, whether they are facing a business success or challenge.
We are known for our expertise, professionalism, exceptional service and exceptional people. We are a company that chooses to be great instead of big.
We have passion for what we do – for our clients, our team and our community. We are accountable – we take initiative and we get things done. We act with integrity and professionalism in all that we do. We communicate and collaborate.
We are entrepreneurial – we seek change, create value, deliver results, innovate and build strategic partnerships. We challenge ourselves and each other to do our best work. We are connectors and lastly we have fun – we take our work seriously but not ourselves.
We help our clients pursue opportunities, create value, navigate challenges and leave a meaningful legacy.
+
SERVICES FOR INDIVIDUALS
+
FINANCIAL PLANNING SERVICES
Our clients are the heart of our business.


ENTERTAINERS & PROFESSIONAL ATHLETES

REAL ESTATE, RENTAL & LEASING





NON-FOR-PROFIT ORGANIZATIONS
I've had a trusted relationship with Christie Henderson and her team for over 18 years. Henderson Partners has been instrumental with offering business advice around mergers and acquisitions, ultimately helping Mico Systems to become one of Canada's fastest growing companies ranked 241 on the 2016 Profit 500.
Scott Barrett
Mico Systems
Christie is our accounting superhero. For over a decade she has been a trusted advisor with a truly unique ability. Her herculean, professional strengths are only matched by her genuine care for our family and family enterprise and that has helped us reliably manage short term needs in a professional and innovative manner and helped us realize our long term goals
George Carras
Real Strategies
I have been working with Christie since I started my business 17 years ago. I have relied on her input, expertise and planning skills throughout my career. Christie has always been my most vital sounding board, in times of challenge and growth she always has valuable insights and advice. The entire Henderson Partners team go above and beyond to provide outstanding service.
Cristina Burgess
Augustina Boutiques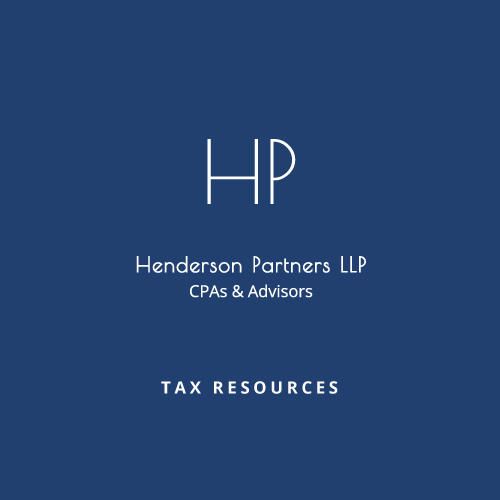 Please visit our Canadian Tax resource page for our available planning forms.
Please visit our U.S. Tax resource page for our available planning forms.