Back to school and a place to call home
September 29th event offers hope for Halton's homeless
by Home Suite Hope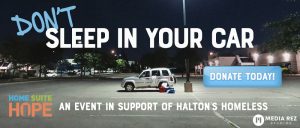 How did your family cope with back to school? Likely with a mix of excitement and trepidation, followed by stress. The thrill of back to school – children excited about new outfits, new school supplies and seeing friends they hadn't seen all summer – gave way to busy, harried ones, with lunches to make, homework to do and after school activities to attend. Unfortunately, for more and more families in our community, back to school is no different from any other time of year. It's just a stark reminder of their reality and what they and their children do not have.

Right in our community a few weeks ago there was an urgent need for lodging for a single mother and her little daughter. They were sleeping on a mattress on a floor, having moved from one short term spot to another all summer. Never mind about shiny new school supplies and clothes. All this mother wanted was for her little one to have a safe and dry home to start school. This is the reality for the women, all of them single moms, who turn to Home Suite Hope for help.

There is hope for these families.

Home Suite Hope is a charity that does transformative work to break the cycle of poverty to help end homelessness in Halton region. You can help single-parent families facing homelessness to have a chance at a brighter future. Join us on September 29th for Home Suite Hope's biggest annual fundraiser – Don't Sleep in Your Car – a fun party for a serious cause. We're coming together as a community to show solidarity and support for our neighbors who struggle, who are homeless, who 'live' in shelters, on someone's couch, or in their car. No one should have to sleep in their car. Please consider sponsoring one of our five car champions who are each campaigning to raise $25,000.  If they don't reach their goal, then they will spend the night locked in their cars. Just as some of our moms and children did, before we could help them.
The evening promises a great time for a great cause, with a live band, BBQ and a 'bail-out' auction, along with guests dressed in their wildest costumes. Everyone in our community deserves a place to call home. Help our friends reach their goal, and – most importantly, to raise $125,000 to support our single moms and their children for another year. 

For more information about the event and to sponsor a car champion, visit www.homesuitehope.org or contact events@homesuitehope.org.